Mill scale is an unwanted by-product of processing hot steel. One way to deal with it is to use Green Diamond abrasive grits from Target Products.
These high-efficiency blasting grits are ideal for most blast cleaning operations. For the toughest industrial jobs, Target Product carries abrasives in glass, garnet, silica, walnut, and other materials.
Logistics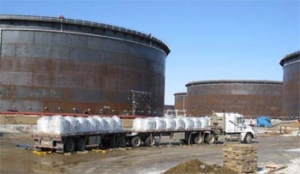 Target can fulfill your trucking needs. Shown here is Target truck delivering a full load of Abrasive bulk bags to a tank farm in Alberta.
Catalog Sheets & SDS
For detailed procedures, precautions and typical properties, see individual spec sheets and safety data sheets in the online product catalog – abrasives section.
Our Abrasives Product Guide has been prepared to acquaint our customers with the various products being manufactured and marketed by Target Products Ltd. Detailed information is offered to assist in the selection and correct use of our products. Procedure and precautions in the use of the various products are given together with typical properties. Click to view full screen.
Recycle/Reuse Program for Spent Abrasives
The procedures and fee for removal and disposal will depend on volume and location within B.C. Our customer's responsibility will be to provide assistance with sampling of the waste material prior to testing and classification, then to provide facilities and labour for the loading of accepted material into dump trucks or bin bags prior to shipment to the recycle facilities.