Target is a full-service supplier that has been supplying golf course sands since 1984. Our technical support staff includes agronomists, engineers, chemists and field technicians providing quality blending services worldwide.
Full Range of Materials
Our golf course and sports field division produces and distributes a full range of materials for golf greens maintenance and construction requirements. We supply bunker sands, fairway blends, golf course greens, tee mixes, and specialty root zone blends. From our various facilities or onsite, we operate blenders and testing equipment to prepare different soils for golf course greens, including topdressing sands, choker materials, pea gravel, and divot repair products.
USGA specifications are guaranteed for our sand/peat blending, topdressing sand for golf greens, choker materials, pea gravel, fairway blended products, divot mixes and bunker sands. Projects and services are provided worldwide.
"Natures Gold" Compost Blends
Target has partnered with one of the leading compost manufactures in the golf industry Natures Gold to bring you exclusive blends to meet USGA or your personal specifications. These blends have been tested at the leading labs in Canada and the US to give you the benefits of a blend with compost, but resist compaction and allow drainage to USGA standards.
Blending Equipment and Mobile Labs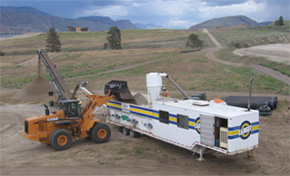 Target Products' portable blending machines and mobile labs guarantee your blending specification and issue quality control reports to verify the mix to its percolation, pH, sieve analysis and blended density.
We will source, ship, blend and deliver materials to your site.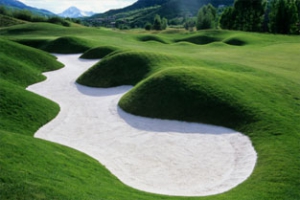 Our superior quality golf course sands meet USGA Guidelines and offer premium playability.
Our bunker sands meet or exceed recommended guidelines.
85/15 USGA Sand Sphagnum Peat Blend
Available in ~2000 lb Super Sack
Repair 8000 divots per 2,000 lb Super Sack
Equestrian Construction and Topdressing Sands
Crumb Rubber and Amendments
Professional Seed Blends